Episode 1:
When children go ghost hunting
We may receive a commission for purchases made by using the affiliate/partner links in this post at no additional cost to you. Thank you for helping to support our podcast!
---
Can kids see ghosts? These true ghost stories may convince you that they can.
About five years ago, the Kilimniks took a family vacation to the mountains of western North Carolina. Seeking a hotel that could spaciously accommodate their family of four, they booked a set of rooms in a Victorian bed and breakfast outside of the town of Asheville.
When children go ghost hunting
Do you want to know if children can see ghosts? We—Becky and Diana—ask that question in this inaugural Episode 1. After all, we have our own memories to draw from. Plus, there's that spooky thing that happened with Becky's kid in that old bed and breakfast. If you believe these stories, you might start to think that yes, children really are in touch with something from the beyond. Listen to the episode now and hear more!
For full show notes go to https://homespunhaints.com/kids-see-ghosts
Receive 10% off all orders of $20 or more at ectogasm.net using code HAINTS
Support the show (https://patreon.com/homespunhaints)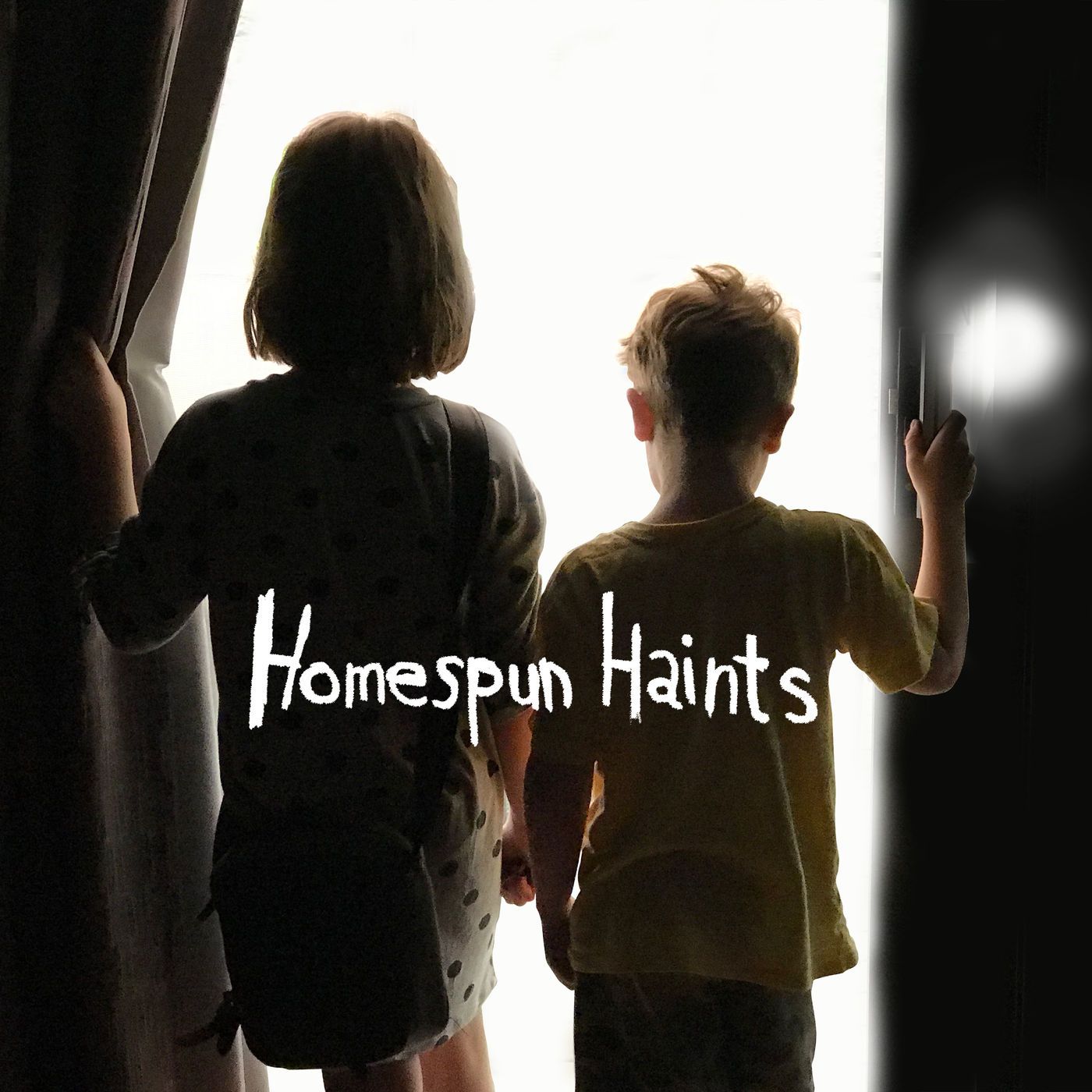 Becky—the mother in this story—never doubted that her babies could see ghosts. But the strange things her young son saw in that haunted hotel room chill her to this day.
Decades prior to this story, the Dotys took a trip to a small town in Massachusetts and stayed in the family's ancestral home. One evening, as young Diana wandered down the hall by herself, she ran into something that still haunts her memories.
Both true stories are told in terrifying detail by the very people who experienced them. Click the play button to listen.
Can your babies see ghosts?
Many children have imaginary friends. Some adults see these invisible playmates as the result of an overactive imagination or a lonely child. Others consider these entities to be ghosts of dead children—or worse—demonic entities pretending to be ghosts of dead children.
Whether your child is playing with a ghost or a purple unicorn she made up named Blurple, there really isn't much to be concerned with. As long as the "imaginary friend" isn't causing too much trouble, moving furniture around telekinetically, or scaring your child's friends, things are probably just fine.
What does it mean when a child sees a spirit?
Many of us believe that kids can see ghosts, even when we adults can't. Their so-called sixth sense hasn't been real-lifed out of them yet. Also, not everyone outgrows this "gift;" some children will be seeing ghosts for the rest of their lives. Which may or may not be a disquieting thought.
The upside to children's ability to see ghosts? Your little ones make great companions when house hunting or making other real estate decisions. If you have children, you have built-in ghost detectors at the ready.
What if your child sees a ghost that's too scary?
All joking aside, there may be instances where your kids see ghosts and it's not all fun and games. Not all entities are benevolent, and sometimes an "imaginary friend" may have a hidden agenda. No pun intended.
The most important first step in this situation is to listen to your children. When your kids say they see something (and they're scared by it), don't assume they're making things up. Whether or not a real ghost is involved, your child's fear is real. Acknowledge it and honor it, and then work to get to the bottom of what's going on.
If you think you have a paranormal entity problem that needs to get gone, consult a professional. With a little digging, you can find someone who deals with this situation on a regular basis. If you can find someone from a friend's referral, even better. We've interviewed several mediums on this show who may be able to point you in the right direction. And good luck.
About this episode
Real life ghost stories are especially chilling when they involve children seeing spirits. Like the one we share in this episode.
Kids have enough going on these days without worrying about extra "spooks" bothering them in the middle of the night, or hiding their homework.
Look! A paranormal podcast!
Speaking of which, this is a podcast. A podcast about ghosts, spirits, the paranormal. We are trying (perhaps fool-heartedly) to one day be the best paranormal podcast out there, but right now we're just getting started. So, if you would be so kind, give us a listen and let us know what you think.
Episode Show Notes
About submissions
In this episode, we offer some guidelines for preparing submissions to this podcast. Would you like to submit your own story to the Homespun Haints podcast? Please check out submission guidelines and upload your own audio or video file here.
A haunted bed and breakfast outside of Asheville
We discuss the haint-filled town of Asheville, North Carolina in this episode. Asheville and its surrounding towns sit in some of the highest peaks of the southern Appalachian mountains, and marinate in ghostly folklore. For a great run-down of local ghostly legends for western NC, check out this article in the Mountain Xpress.
Tennessee's Oldest American Town (and Cemetery)
The city of Jonesborough, home to the annual National Storytelling Festival, was founded in 1779. It also boasts some of the oldest American graves in the southeast in its cemeteries, and claims to be one of the top ten most haunted cities in America. Learn more about the history of this mountain town, or read some local ghost stories in the town's Herald and Tribune.
Until next time, have a spooky day!