Interview with the Vampyre CEO
We may receive a commission for purchases made by using the affiliate/partner links in this post at no additional cost to you. Thank you for helping to support our podcast!
---
Rachel, CEO of Vampyre Cosmetics, tells us about her coast-to-coast encounters with some extremely famous ghosts, from Voodoo Queen Marie Laveau in New Orleans, to Sarah Winchester of California's Winchester Mystery House.
Episode Summary
Who is the most famous ghost you've ever seen? Do you think people who are loved and revered by the masses long after death have more energy to manifest?
Our guest today has seen her fair share of ghosts, but some of those ghosts are of people you've probably heard of. Perhaps it's because she gives ghost tours of one of the most haunted districts in the U.S. Or maybe these particular ghosts like her commitment to ethics in business. Let's hear from Rachel, founder of Vampyre Cosmetics, today, on Homespun Haints.
AI-generated transcript of this episode available upon request.
Sponsored by Dark Cottage
Remember when you were a young mall goth, and the only lacy, laced-up, flouncy, flare-sleeved black dresses were cheaply mass produced polyester junk for skinny people that were inexplicably too expensive to actually buy? NEVERMORE. Dark Cottage's inclusive sizing and ethically produced affordable designs in natural and quality fibers really fill the empty spot in your soul left by this childhood trauma. Use code HOMESPUN for 10% off any purchase at our sponsor Dark Cottage, or sign up for their mailing list before May 1 to get a coupon for a bigger discount.
Sponsored by The Smell of Fear Candles
Candles based on the ambient scents from your favorite horror films. The Smell of Fear candles is still offering a 15% discount on any non-subscription purchase at TheSmellOfFear.com with code HOMESPUN15.
About the Guest, Rachel Clinesmith
Rachel is the founder and CEO of Vampyre Cosmetics. She is also the Editor in Chief of Vampyre Magazine and Co-Owner & Founder of Vampyre Cosmetics LLC. Actually Autistic & ADHD, makeup has been a special interest since she was 13. She has been designing custom cosmetics products for a number of other independent brands and celebrities since 2011. She created Vampyre Cosmetics LLC for the niches mainstream brands leave behind. Her experience working with the music, pinup, burlesque, and horror communities/industries has given her first-hand knowledge of the needs of these subcultures.
Bloody Mary's Voodoo Museum
Rachel gives ghost tours through Bloody Mary's Tours and Haunted Museum. Voodoo Queen Bloody Mary's home apparently had enough strange entities to sincerely disturb the crew of Ghost Adventures. Some entities came with the house, some came with Mary, some came with the artifacts. And some may have come slithering in with the filthy flood waters of Hurricane Katrina. You can speak to the ghosts yourself at one of their séance experiences.
Feeling the fear of ghosts
Rachel posits that empaths living in a haunted place are likely to sometimes feel afraid of the ghosts. But she proposes that a lot of this fear is fear of the unknown, not necessarily a sign of a malevolent force. And if we are afraid of the unknown (ghosts), surely the ghosts are also afraid of the unknown (us).
The Ursuline Convent Casket Girls; truth vs. fact
As Rachel said, if there are vampires, and they are real, they're probably in New Orleans. But were they shipped over in coffins to hide in the upper floor of the French Quarter convent in 1706? Or were vampires just a convenient scapegoat for mosquito borne illness, tuberculosis, and cholera?
The filles à la cassette were basically mail-order brides, shipped in to populate the new port city of New Orleans. The lore has gained some embellishment over the years. Ok, a lot of embellishment. Filles à la cassette became Filles à la casquette. The girls and their cases/caskets never lived in the convent's attic. Also, the attic windows are not really bolted on the outside. But when entire families were dying out from poorly understood diseases, vampirism seemed as good an explanation as any. These girls were the newest kids in town. Coming straight from convents and orphanages in Europe, they were probably ill-equipped to stand up for themselves in the new world port towns full of trappers, soldiers, and hookers.
New Orleans' Unconventional Heroes and their Famous Ghosts
Despite its history as a plantation city, New Orleans has always represented some ideals of democracy ahead of its time. NOLA was one of the only locations in the early American settlements where even enslaved people had the opportunity to pursue a better life by buying their own freedom. And, as Rachel said, the famous figures which NOLA considers heroes would be villains elsewhere. Here are some she talks about in this episode.
Pere Antoine, a priest who disobeyed orders to minister to everyone, including slaves and prisoners. The city rallied to keep after the local vicar booted him in 1805. His ghost now haunts the French Quarter alley named for him.
Jean Lafitte, a straight up pirate. While he did all the nasty things most associate with pirates, locals viewed him as a sort of Robin Hood figure. There's still a bar in the French Quarter inside the blacksmith shop he and his brother Pierre dealt out of. In fact, it might be the oldest structure used as a bar in the United States.
Marie Laveau, voodoo queen and local hero. Rachel tells the story of spotting the famous voodoo priestess' ghost in this episode. Throughout the mid 19th century, Marie Laveau used her magic and influence to help New Orleans locals of all social strata. She's buried in St. Louis Cemetery No. 1 of NOLA…or is she?
Sarah Winchester as a Philanthropist
Rachel's business partner actually lives on the property of the Winchester Mystery House, so they frequently get the chance to see the ghosts there. Rachel provides the theory that Sarah wasn't just a nutty old lady who kept building exclusively out of fear. Her goal was to atone for the lives lost due to her husband's family's rifle. But just playing lip service to atonement wasn't her jam. By keeping up continuous construction, Sarah actually used her husband's money to employ many residents of San Jose, CA.
We can't wait for Vampyre Cosmetics' 3D Winchester House-inspired makeup palette to come out this June!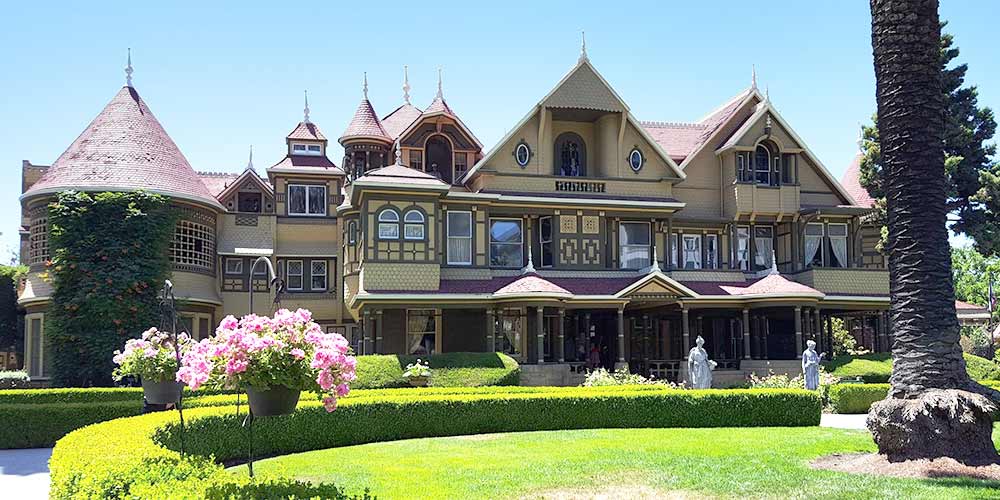 Atchison, KS
Rachel says that there are plenty of ghosts to see in Atchison, KS. But she also warns that the entities there are malevolent. Perhaps avoid ghost tourism in the area. Because if you visit once, you'll possibly get stuck there.
Have you seen a famous ghost in New Orleans, California, Kansas, or elsewhere?
Why not submit to tell your story on the next episode of Homespun Haints? And if you'll be in NOLA soon, remember to request Rachel as your French Quarter tour guide at bloodymarystours.com to have a historically accurate spooky day.